Lincoln, NE Family Law & Personal Injury Attorney
Finding an attorney you can trust can be difficult in the vast pool of qualified candidates. In my years of legal practice, I have dedicated my skills to and prided myself on providing the best service for my clients.
JAMES HOPPE
ATTORNEY AT LAW
I got into law because I wanted to help people. That is the answer most people are looking for when they ask the question, but for me it really is true. I view my practice as a means of helping people who genuinely need it. This approach gives me compassion in family and personal injury cases. Working as a prosecutor for 8 years has given me an edge when defending clients who have been charged with crimes. Likewise, in every area of law I practice, I use my experience to guide my skills and strategies in pursuit of my clients' best interests.
PRACTICE AREAS
Guiding your family towards resolution. Helping you find solutions
Auto Accident Quick Facts
Time is of the essence.
The more time that goes by after the accident, the more details you will forget. Write everything down immediately, and do not hesitate to hire an attorney and file a claim.
Damage isn't limited to physical harm.
Your property has been damaged, and you have likely sustained injuries. But your pain and suffering can also be accounted for when calculating the damages you suffered.
Your belongings may not be covered.
Your car insurance covers the cost of damages to your car, but any personal belongings in the car may not be protected. This is why you should consider filing a claim aside from your insurance.
Each parties' insurance matters.
Whether you are responsible or not, you will need the insurance information of all parties involved. It is also likely that you will need to submit multiple claims to recover your losses.
Divorce may seem like the end, but it can also be a fresh start and a new beginning.
No one ever plans on getting a divorce. Whether you had a big extravagant wedding or eloped in front of a justice of the peace, divorce is complicated, painful, and emotional. With my help, you don't have to go it alone and you shouldn't. I want to help you get the best out of your situation and help you reach a resolution that meets the needs of you and your family. No matter how difficult your case may be, I have experience and will use that to help you succeed.
A Featured Attorney
James is a featured attorney on Mediation.com and we highly recommend his services.
I Recommend Him
Mr. Hoppe helped me a lot. I would highly recommend him to anyone!
Outstanding Attorney
Thank you for assisting us. Your office is very helpful and you took care of our needs. Outstanding!
Very Happy With Jim!
I am very happy with him! Thanks Jim for all you do for me! Randy Drewel-A Lasting Impression DJ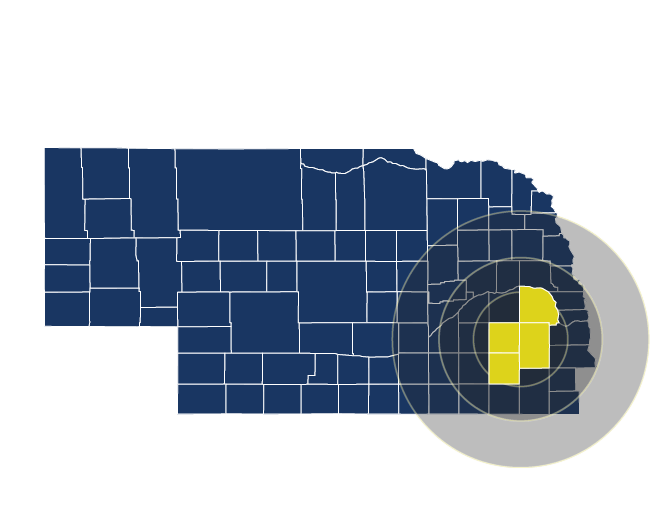 Proud to Serve Throughout Lincoln, NE
Seward County
On the outskirts of Lincoln, Seward County embodies the beauty of the plains and culture of the city.
Saunders County
Adjacent to the Missouri River, Saunders County boasts of lush green plains and the beautiful Nebraskan bluffs.
Saline County
Saline County is home to some of the many suburbs of the city where a slower-paced lifestyle is enjoyed.
Lancaster County
The home of Lincoln and the intersection of Midwest travel, Lancaster is a good mix of city and suburbia.
No matter the details, I will work with you to find a solution
As a family law and personal injury attorney, I am proud to give the people of Lincoln, Nebraska the best legal service in whatever situation they may find themselves in. With over 40 years of experience, I can help guide you through the legal process and help you find solutions.
Being a personal injury attorney has given me the opportunity to work with some of the strongest, most resilient individuals. I find great satisfaction in helping them get their lives back on track and getting them compensated for their injuries and give them the freedom to focus on recovering rather than legalities.
Working with families who are going through the legal system to resolve sensitive matters lets me take that burden off of their shoulders so they can focus on family. These cases are always difficult for the parties involved, but I am able to provide personal support to them with compassion and empathy. When you bring your family to me, I give them the care I would want for my family.
No matter what my clients are facing, I provide service that is catered to their unique needs, and I always keep their best interests in mind when crafting strategies and advising decisions. Call me today for the level of service you deserve.